Who is Monica Yellowstone? Learn More About Her Current Boyfriend
Fans of Yellowstone are familiar with Monica, the beautiful and strong wife of Kayce Dutton on the show. Monica abandoned her accustomed life to go with her husband and son to the Dutton family property.
The protection of her son is her top priority, and she would give her life to ensure his safety. Yellowstone fans are unquestionably curious about Monica Dutton's real life, including who she is and how she lives. You should read this article in its entirety.
Who is Yellowstone Monica
In the Yellowstone TV series, Kelsey Asbille Chow plays Monica Dutton. The actress who plays Monica Dutton, Kelsey Asbille, declares her Native American background and self-identifies as Cherokee. She claimed to be an Eastern Band Cherokee, but the tribe refuted this and indicated that she is not.
Kelsey Asbille is known for her former roles as Tracy Stewart in Teen Wolf and Mikayla in Pair of Kings, in addition to her current role as Monica in Yellowstone (2010-2013).
Read More:
 Foreman Spike Mario: Who is He? Is Spike Going to Appear in the Mario Film?
Yellowstone Season 4 Release Date: Cast| Plot| Genre| Spoilers| Trailer!
Kelsey Asbille Early Life
Kelsey Asbille Chow's parents are Dr. James Chow and Jean Chow. Kiersten, her younger sister, and Forrest, her younger brother, make up her family.
Chow asserts that her father is Chinese and her mother, who was born in Columbia, South Carolina, is American. In 2010, she stated that because her father is Chinese, she desired to comprehend traditional Chinese characters and speak Mandarin Chinese more fluently.
When she was granted Native American ancestry in 2017 and 2018, she claimed to be "half Cherokee" and to have a "Cherokee identity." She claimed to have "Eastern Band Cherokee ancestry" and that playing an Indigenous woman in an interview was "in her blood."
Chow completed his high school education at the Hammond School in Columbia, South Carolina. She mostly resides in Los Angeles, but she also maintains a second residence in New York City, where she studied human rights at Columbia University.
Must Check: The Voice 'Season 23: See the All-New Roster of "The Voice" Coaches for Season 23 & Blake Shelton to Exit
Kelsey Asbille's Professional Life (Yellowstone Monica)
Kelsey Asbille Chow Chow made her television debut in 2005 as Gigi Silveri, a recurring character on One Tree Hill. She stayed on the show until 2009 after obtaining expertise in community theatre.
She made a cameo on The Suite Life of Zack and Cody in 2008. She also had a small role in the Disney Channel original film Den Brother. Chow co-starred as Mikayla in the Disney XD original series Pair of Kings from 2010 to 2013.
Chow had a minor role in The Amazing Spider-Man in 2012 before being cast in the starring role in Run. Hieroglyph, a 2014 Fox drama, cast her. However, the show was canceled before it even began.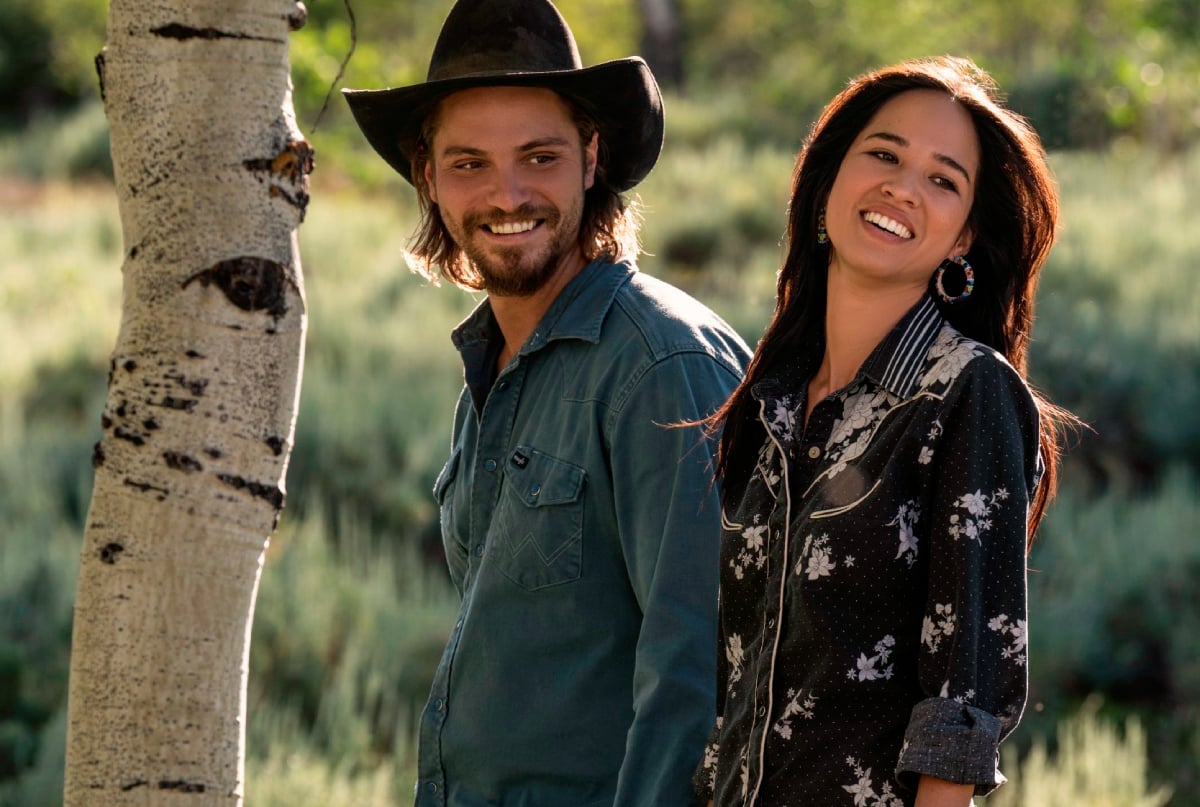 She appeared alongside Stefanie Scott in the 2015 music video for Hayley Kiyoko's song "Girls Like Girls," and she portrayed Tracy Stewart in season five of Teen Wolf (the first ten episodes premiered on June 29, 2015, while the second half premiered on January 5, 2016).
She is credited as Kelsey Chow for all of her movie appearances prior to 2017. The majority of her subsequent parts, including those in Wind River, Yellowstone, and Fargo, have been cast under the name Kelsey Asbille (where she played Native American women).
Kelsey Chow's Boyfriend?
William Moseley and Kelsey Chow, co-stars of Run, began dating in 2012. The English actor William Peter Moseley is best known for his appearances as Prince Liam in the E! original series The Royals and Peter Pevensie in the Chronicles of Narnia film series.
When Will Season 5 of "Yellowstone" Be Available?
Fortunately, there won't be a long wait for new episodes of the western drama. Season 5 filming began in May, and Kelsey exclusively told Distractify that she was excited to get started. The next season will begin with a two-hour special on November 13, 2022, before Tulsa King makes its television series premiere.