Who is Zoey Deutch Dating in 2022? About Her Boyfriend
Zoey Deutch is an American actress and producer best known for her roles in The Politician and Vampire Academy. Her talent and stunning appearance helped her win several important honors, including the Dallas International Film Festival and the Hollywood Critics Association.
Aside from her amazing career as an actor and producer, we may have heard her name because of the latest rumor from her interview with Andy Cohen, in which she stated that kissing James Franco was "meh."
Was it because James Franco didn't suit her? So, what kind of men are her type? Learn more about Zoey's ex-boyfriends by clicking here!
Zoey Deutch's Boyfriend
Zoey's personal life is difficult to learn about because she is a very private person. Her most recent lover, Dylan Hayes, was spotted with her frequently in public.
Dylan Hayes is the son of fellow producer Chad Hayes. Chad Hayes is well-known for his work on the film The Conjuring. Dylan previously appeared in No Strings Attached and is now seeking a career as a director.
Dylan Hayes's Calm and Consistent Relationship
Zoey and Dylan began dating in 2017, and their relationship appeared to be peaceful, with no unpleasant rumors or major conflicts surfacing on the internet. Despite the fact that their images together were all over the internet, they never truly discussed their relationship life in public.
Zoey Deutch, like other celebrities whose personal lives are already widely publicized, strove to make her personal life as quiet as possible.
Their romance began shortly after Zoey terminated her five-year relationship with Avan Jogia. Though Avan and Zoey's relationship ended for good, I'm sure five years was enough time for Zoey to be affected in some way. But, given the outcome of Zoey and Dylan's relationship? We certainly have a lot of respect for Zoey.
They initially appeared together while on vacation in Ischia, Italy, holding hands and kissing.
They kept uploading photos of themselves to their personal accounts, albeit they didn't say much about it. Furthermore, some paparazzi frequently photographed them hanging out in gorgeous attire and seemed to be head over heels in love.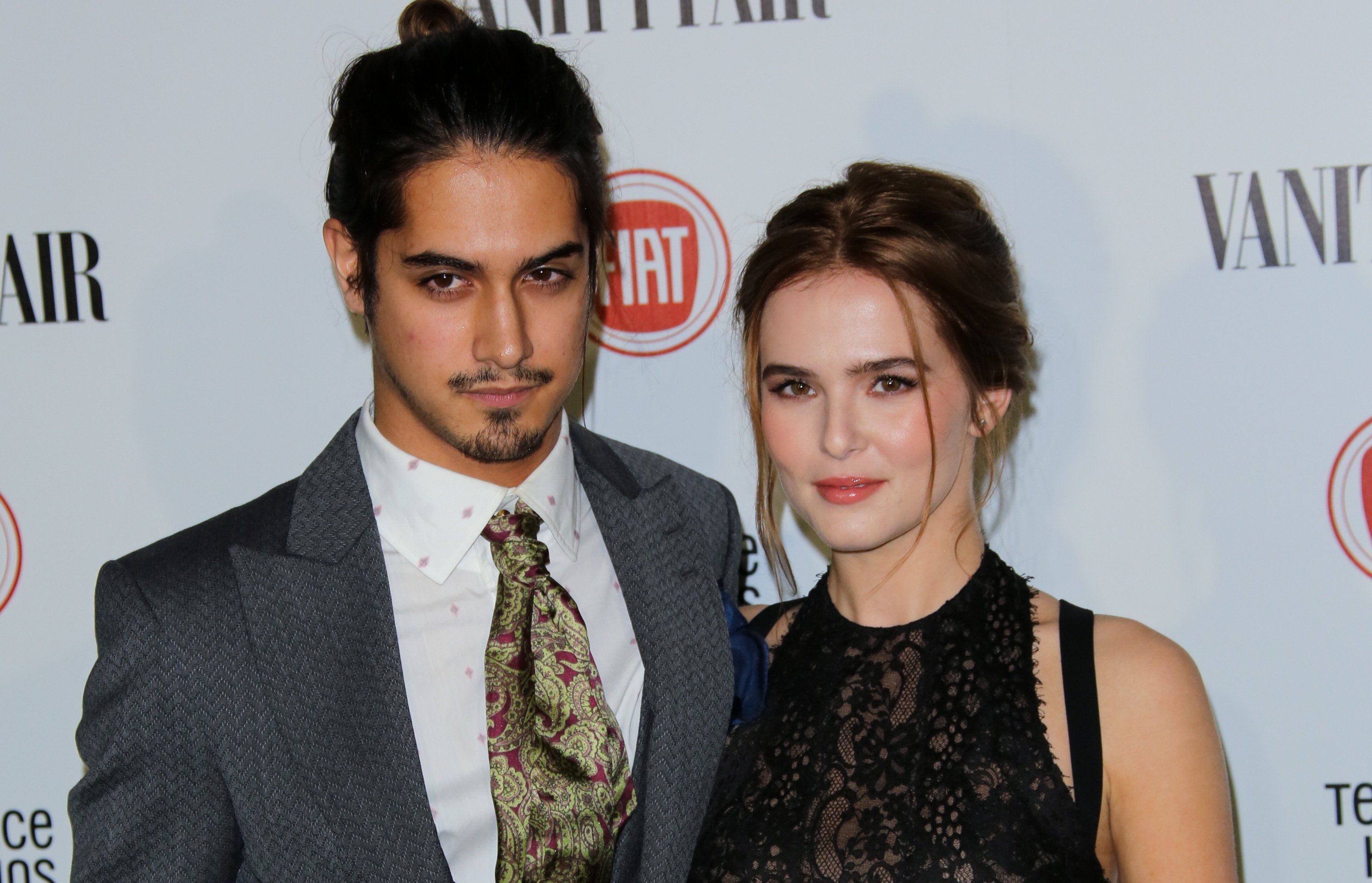 Another photo of them on vacation in Europe shows Zoey in a gorgeous black bikini and Dylan in red and white shorts. They both looked great together, as they always do.
Their followers' favorite photo is of them holding hands in New York City in 2018. Dylan Hayes sported spectacles and looked as cool as ever, while Zoey wore a tucked white t-shirt and baggy pants. She also paired it with a stylish red coat and flat black shoes, making her look both chic and classy.
They have remained a wonderful couple till now, so we hope that their romance will endure and that they will marry soon! (Perhaps they'll have children as well?) (I'm crossing my fingers!)
Read More:
Who is Cody Johnson? Cody Johnson's Dating History and Relationship Status!
Who is Kodak Black dating? Is Kodak Black and Monica Dating?
Avan Jogia and Zoey Deutch
Zoey was in a five-year romance with another actor, Avan Jogia, before dating his current lover, Dylan Hayes. Having a five-year relationship in Hollywood appears to be a luxury that not many people have. Though Zoey and Avan were the first to do it, they called it quits in 2017 and remained alone for a while.
Avan Jogia is a tall, beautiful, and tanned man. He was born in Canada and is most known for his performance in the film Victorious. In addition to acting, he sings, writes, and is an activist.
Zoey and Avan initially met at the Kids Choice Awards, and they both met through ABC Family, where Zoey starred in Switched at Birth and Avan featured in Twisted. Their love had been in the air since they met at the Oscars.
Avan was also more of a private guy, therefore they had little trouble establishing their common grounds. This was demonstrated by their refusal to discuss their relationships in depth throughout their interviews.
Avan has also made a clear remark to convey his views on keeping his love life private: "I believe that if you continue to court the public's attention to your relationship, you risk asking them to pry more out of it." If you don't want to be a spectacle, don't go, and perhaps you'll be left alone." In an interview with Glamoholic magazine, he revealed this.
As we all know, many couples in the entertainment industry have divorced due to their opposing views on public attention; nevertheless, this did not appear to be a problem for Zoey and Avan.
Aside from that, they shared their adorable moment, largely on their own Instagram account. There were videos of them dancing together, acting together as they went to the high school prom, and so on. Don't we all like seeing a couple who doesn't have a lot of drama in their lives?
The Unfortunate Thing is That They Destroyed Their Photos Together Shortly After Their Breakup
Sadly, their adorable and delightful times must come to an end. After five years of displaying their romance, when we began to believe that true love in Hollywood exists, they chose to call it quits in 2017.
They told the media that they concluded it on a positive note. There was no fighting or hatred. It was a friendly breakup. Both indicated that they still respected each other and wished to remain close friends.
Many people in the media have speculated on why they broke up after being a stable and drama-free pair. According to the media, they discovered discrepancies in their professional choices and that their careers were diverging.
Meanwhile, some other media outlets reported that they had minimal disagreements even four months before the media learned about their breakup.
We'll never know for sure because neither of them is forthcoming in their interviews (of course, they are very private people since the beginning anyway).
Both Zoey and Avan maintained a professional demeanor. They starred together in Zombieland: Double, which was released the same year they split up. Isn't that something only a few celebs can do? Thank you for always being mature and professional!
Both Avan and Zoey's stories after they split up were equally appealing. Though it appears that neither of them took long to locate other girlfriends, their connection after their breakup turned out to be a long-term one as well.
While Zoey and her current boyfriend, Dylan Hayes, are having a fantastic time, Avan is also dating Cleopatra Coleman, and the relationship has been going on for more than three years.
They, like Zoey, frequently share photos of themselves together on social media but rarely discuss their relationship. I guess that's how they maintain long-term relationships with their partners.
Dating Josh Hutcherson Discovered to Be Avan's Best Friend
Josh Hutcherson is an American actor whose name we may have recognized from The Hunger Games series. Surprisingly, he was Avan's best friend, and they both dated Zoey Deutch.
There weren't many rumors or articles about them either, because Zoey Deutch kept her love life under wraps. And it appeared that this was true since her first public connection with Josh Hutcherson.
There were only a few photos of them traveling together to Vancouver, Canada. Their gazes met as they walked through the airport holding hands.
There were also photos of them drinking in the bar and attending formal functions. They didn't reveal how they met, how long they had been in partnerships, and, of course, the cause for their breakup was never revealed.
It's also worth noting that Zoey Deutch always seemed to attract guys who disliked too much media attention. Josh Hutcherson was no different.
Josh Hutcherson's dating history isn't that interesting, either. We knew who his girlfriend was at the time, but we didn't know much about his backstory.
Also Read:
 Who is Madonna Dating? Know Her Current Relationship and Dating Background!
Frank Stella Net Worth 2022: Who is Dating Frank Stella?
Also, how come Zoey dated both Josh and Avan (who are best buddies!)? Was she still not despised by the media and many people?
We can all agree that Zoey was never the type of person who caused drama in her relationships. She is focused on her career and mature enough to separate her personal and professional lives. We like maturity, which may explain why she seemed unconcerned about dating both Josh and Avan.
We hope Josh and Zoey's divorce was not due to one of them cheating (it's difficult to envision the cute Josh Hutcherson or lovely Zoey Deutch cheating on their spouses!)